Hello everyone ! I hope you are well and that this month of September is off to a great start for you! Even if I'm taking full advantage of the last days of summer, I'm delighted to see the start of the new school year coming because this period from September to December is my favourite, especially for getting dressed! 
For some time now, I have been trying to have a more reasoned consumption of fashion and this involves, among other things, investing in beautiful, qualitative and durable pieces, but also versatile and which allow me to compose a maximum of outfits, especially via the capsule wardrobe concept that I find super interesting.
Here are the essentials of my back-to-school wardrobe, with a selection of mid-season pieces for you ?
A pretty blouse in lace or embroidery
I have a passion for lace or embroidery blouses! I find them very elegant and very easy to combine . With jeans and ballet flats, a skirt and moccasins or even black trousers and pumps: it's a piece that can be worn on all occasions and allows you to compose a maximum of different outfits.
At the moment I have this Sézane lace blouse on my wishlist : I find it absolutely gorgeous and I can imagine it already worn with lots of other pieces from my back-to-school wardrobe! I also really like this model in organic cotton with its pretty applied flowers and this model from the French brand Svetlana K. Super chic!
If you are not a fan of 100% lace or embroidery, you can opt for a model with only embroidered details on the collar and sleeves, like this one .
A short-sleeved knit top
I've always loved knit tops, especially short-sleeved or sleeveless,  I find it incredibly elegant  ! I recently showed you  this & Other Stories model that I have in white and beige on several occasions (bought last year, but reissued this year). I have lost count of the number of times I have worn it and it is a piece that is particularly suitable for mid-season, when it is cool in the morning and evening, but mild during the day. 
I like to wear this type of top with jeans or trousers and under a blazer. It's super chic and comfortable at the same time ! I spotted this model available in several colors at &Other Stories which I find delightful. Another one of my favorite knit tops that I have in 2 colors: this Sézane top that I have in brown and white and that I have worn dozens of times!
A neutral or checkered skirt
In September I like to wear my skirts still with bare legs and with a pretty blouse or a t-shirt! It's a piece that can easily be worn when the temperatures cool down and autumn sets in, with a sweater, tights and boots! I have on my wishlist this lovely simple black skirt that I plan to buy in the coming weeks.
I also really like to introduce checks and houndstooth patterns into my outfits this season, especially with printed skirts! I particularly like this model that I bought a few months ago and which is very easy to wear and combine.
For skirts, you can also look at Jupes de Prune , which offers short circuit pieces made in France.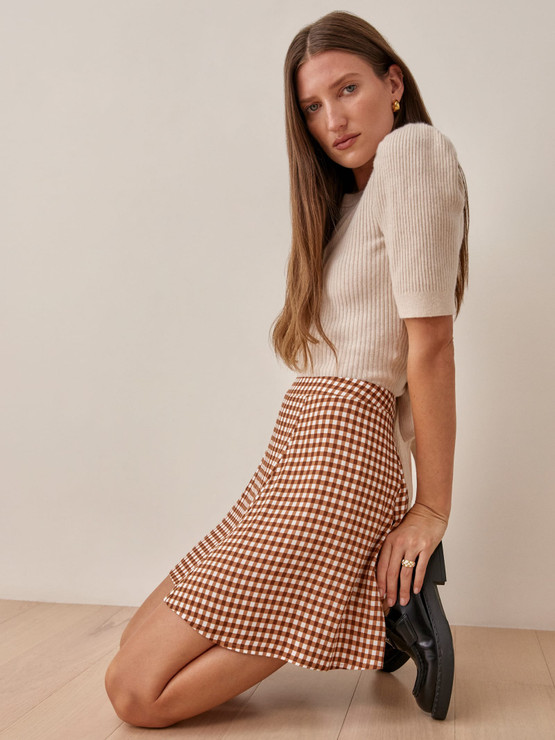 A white t-shirt
It's a basic, whatever the season! At the moment I love wearing it under a blazer or a small cardigan in the morning, which I take off during the day when it's softer.
For a long time I struggled to find a white t-shirt that really suited me and matched my style well. I wanted it feminine and not too "ordinary", that's how  I created  the Rachel t-shirt in ribbed organic cotton and GOTS certified  within the eco-responsible brand that I created with Vincent:  Solstice Éditions . I am certainly not objective, but I find it really perfect! 
You can also see it worn in one of my recent looks in  this article  which can give you ideas for composing outfits!
A neutral colored cardigan
It's a good essential for cool mornings and evenings, ideally in a neutral color (white, ecru, camel, navy or black according to your tastes and habits).
I really like the Sézane knit, especially their iconic Gaspard cardigan  which comes in many colors or  their Achille cardigan which I also find really beautiful.
Also remember to look at &Other Stories which offer very nice sweaters and cardigans with the RWS label (Responsible Wool Standard or "y arn mulesing free " which guarantees the well-being of the sheep and the respect of the pastures):  I totally love  this pretty ecru cardigan that has a vintage air that I love and this hand-knitted ecru cardigan from the brand Svetlana K  !
A neutral or plaid blazer
It's one of my essentials for all seasons, but even more so in the spring , to wear over a marinière, a white shirt, a T-shirt or even a dress: the possibilities are endless! I bought  this model at Sézane  2 years ago and it's already one of the pieces I've worn the most in my wardrobe, I think! I really like its warm color and its slightly loose cut, it is really superb (I also have its linen version bought on Vinted and which I wear here with the matching pants) and very comfortable, an important criterion!
Spoiler alert:  we are finishing developing a plaid blazer for Solstice Editions , which will be released very soon! Can't wait to show it to you! 
Light and/or raw jeans
Jeans are one of my basics for all seasons . At the start of the school year, I like to wear light jeans like raw jeans. I recently purchased these &Other Stories organic cotton jeans  and I'm so thrilled! I was looking for well-cut straight jeans (I had  slim ,  flared  and short & flared models, but I haven't had a straight cut for a few weeks and I haven't taken them off since I got them. They're very comfortable, their cut is top and it comes in lots of different colors (dark denim, black, beige, etc.) I'm wearing the  mid-blue color here  and a size 25 (I'm a good 34/small 36 so it fits normally). in  this photo , in  this one , but also in this Instagram video (Thursday look).
I also have light flared jeans at the bottom from Rouje bought second hand on Vinted last year so I'm very happy (which I also have in raw) and which I wear  in this article  on the 2nd look. Its cut is very beautiful with the visible buttons at the level of the belt.
A white shirt
It's THE basic par excellence, whatever the season, isn't it? For me, it 's the piece that goes with everything and can be worn both dressy and casual! 
I invested in  this white organic cotton shirt  last year (after reading  this excellent comparison article by Anne from Dressing Ideal ) and it is exactly what I was looking for . It is very well cut, thick enough not to be transparent (or really very very thin) and very comfortable. I highly recommend it if you are still looking for THE white shirt!
This season I like to wear it with these white shorts and a beige blazer when the weather is still mild or with light jeans, a pair of Repetto and a pretty navy blue blazer.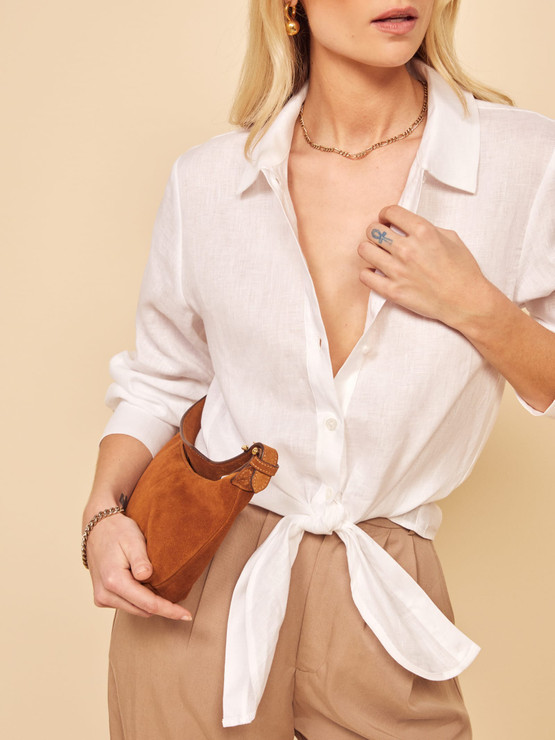 A pretty scarf
I love scarves for all seasons, to wear around the neck, the handle of a bag or in the hair! It's a great accessory to give a little dimension to a very simple look! I love this beige and black silk scarf that goes with everything!
Also think about the second hand for your scarves!  You can find very beautiful vintage silk pieces at lower prices on Vinted or Vestiaire Collective / Vide Dressing if you are looking for luxury brand squares, such as this superb Céline vintage evening scarf at a very reasonable price ? I have you put other second-hand pieces in my selection below!
A pair of babies
What to wear when you put away the sandals, but you don't want to wear ankle boots yet? Babies are the shoes I like to wear the most at the start of the school year! I have several pairs, including very simple black varnished ones that I wear with everything (Sezanes from several years ago) and this year I adopted these , brown and with a big heel which gives them a 70s side that I love!
Repetto offers a model of magnificent babies , super comfortable and very qualitative (I have had mine for years), but if your budget is more limited, this model is a basic excellence in my opinion!
A pair of moccasins
Another pair of shoes that I love to wear this season, especially when I rather want to be flat: loafers! Nothing like adding a preppy touch to any look! I like to wear my loafers with jeans (raw or light), a white shirt, a scarf around my neck and a blazer over it. Simple, effective and super chic! I have a two-tone model from GH Bass & Co which is superb and which I love and I also spotted this pretty pair at Balzac Paris , made in Portugal.
A shoulder bag
I love crossbody bags because I find them both stylish and practical (I like having my hands free). I really like the bag models offered by Polène , especially their new bucket bag that I've been wearing since last winter and that I really like. The Léo & Violette brand also offers very beautiful models, just like Sézane which offers pieces with a very good quality/price ratio. I have worn the Victor bag for several years and it goes with everything, in all seasons. I also really like their Milo model in taupe, which I find original but easy to wear.
If you are looking for vegan pieces, you can look at the brands Alénore , Ashoka or Alixane .