The trench coat
An essential in my wardrobe that I couldn't live without, ideal for mid-season and that goes with everything! Trench coats come in many colors (including navy, black or khaki), but for me beige is the most versatile. Short, mid-long or long, there are also different shapes, to choose from according to your preference and size!
I recently invested in a used Burberry trench coat ( I told you about it in detail in this article ) and I'm so happy! If you are looking for an impeccably cut and high quality trench coat, I highly recommend the Scott trench coat from Sézane. One of my friends received it for her birthday and it is really ma-gni-fi-que! I also find it superb in khaki, I've been wanting it in this color for several seasons!
If you like patterns, this checkered model in organic cotton is hot! I myself have had a plaid trench coat for years that I really like ( I wear it in this article in particular ).
Also think of the second hand for this type of parts ! Brands you can look for second-hand for beautiful, well-cut trench coats? MaxMara, Tara Jarmon, Maison 123, Sandro, Maje and Claudie Pierlot!
light jeans
When spring arrives, I wear more light colors and light blue denim is one of my basics . I bought these &Other Stories organic cotton jeans last year and I'm delighted! I was looking for well-cut straight jeans and I haven't taken them off since I got them! It is very comfortable, its cut is great and it comes in lots of different colors (dark denim, black, beige etc). I'm wearing the mid-blue color here in size 25 (I'm a good 34/small 36 so it fits normally). I'm wearing it on this photo , on this one but also in this Instagram video (Thursday look).
I also have light flared jeans at the bottom from Rouje bought second hand on Vinted last year (which I also have in raw) and which I wear in this article (on the 2nd look) which I love the cut and the visible buttons at the level of the belt. In the same style, I love this model from &Other Stories, with small studs in the material ! I also spotted this model in organic cotton whose cut looks amazing! It also exists in white , I'll tell you more about it below ?
A white shirt/blouse
Another essential in my wardrobe, which goes with everything and can be worn both dressed up and more casually . It's the piece I always fall back on when I don't know what to wear : with jeans and a pair of ballet flats / sandals or sneakers, it always works great!
I invested in this white organic cotton shirt last year (after reading this excellent comparison article by Anne from Dressing Ideal ) and it is exactly what I was looking for. It is very well cut, thick enough not to be transparent (or really very very thin) and very comfortable. I highly recommend it if you are still looking for THE white shirt! This organic cotton model looks great too!
On the white blouse side, I have several that I have worn for years:  my favorites are those with a pretty Peter Pan collar and pretty details on the sleeves ! I have a model very similar to this one that I have been wearing for years, also under sweaters to have the nice little collar sticking out!
A sweater or cardigan in a neutral color
I really like sweaters and soft vests in which we take pleasure in curling up ! In the spring I wear them a lot on blouses in particular, so that I can add or remove layers depending on the weather ?
Sézane makes a lot of knits that are both classic and lovely, including their iconic Gaspard cardigan , which comes in many colors, or their Achille cardigan , which I also find really beautiful.
Don't hesitate to look at &Other Stories, which offers very nice sweaters and vests with the RWS label (Responsible Wool Standard or "y arn mulesing free  " which guarantees the well-being of the sheep and respect for the pastures): I I particularly like this model with its ruffled sleeves (I have it in pink) or this one with its pretty buttons !
This simple and slightly oversized cardigan from the eco-responsible brand Armed Angels is also very pretty, as is this camel cardigan from the eco-responsible brand Whimsy + Row (a top brand that I recently discovered).
And of course the recycled merino wool sweater made in France that I created for my brand Solstice Éditions ! For me, it's THE perfect sweater, the one that's chic in all seasons, super versatile and elegant with jeans as well as with dressier pants, under a big coat in winter or with shorts in summer when the evenings get cooler! I love it with all my heart ! It is still available in mini quantity following the second production that we launched since it had been a victim of its success in just a few minutes during the 1st launch!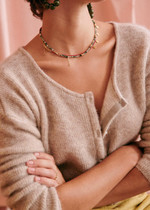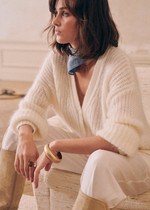 White/ecru/beige jeans or pants
I've always loved wearing white pants and jeans and in spring: for me it's a basic that brightens up any outfit! It allows you to change jeans, but goes with everything too! I love white monochromatic looks by the way, like one I'm wearing in this post ?
I've had the Adriano organic cotton jeans from the Balzac brand for 2 years and I really like them, even if they're a little wide for me and I'd like to find a model that's closer to the body. I spotted these ecru organic cotton jeans at &Other Stories which look great and with a fit quite similar to the Balzac. &Other Stories jeans are always super well cut I think!
If you don't like flared pants at the bottom, this more skinny model (still in organic cotton) looks super nice!
For my part, I have this beige model from &Other Stories which is great (organic cotton too), it's the same model as the jeans I was telling you about above! I wear it here or here if you want to see it on me!
These Sézane pants have a crazy cut (I have them in black) and they look great in ecru!
A marinière / a striped top
I love sailor tops and striped tops which are basics for me all year round, but especially in the spring! I spotted this lovely thin sweater a few weeks ago that would be perfect for spring! I also loved this short-sleeved and cropped model that will look great with high-waisted jeans flared at the bottom for a retro look!
If you're not into blue and white stripes, this camel/ecru Sézane striped sailor top will surely please you: I adopted it last year ( you can see it on me here ) and I like it a lot!
A plain or patterned skirt
I love to wear skirts and when you say the return of spring, you mean the return of your legs in the air without being cold! I wear both plain skirts that are easy to match with lots of outfits like patterned skirts, which I then pair with a rather simple or plain top like a thin turtleneck, a t-shirt or a blouse! For me, both are basics!
I recently bought this pretty slit skirt which I absolutely love and which is very versatile, whatever the season by the way! Many of you sent me the link to this skirt which is indeed a real marvel with its pretty flower and pearl details. Very Blair Waldorf!
If you are looking for a basic model, this white skirt and this beige skirt are safe bets! If you prefer colorful and patterned models, I saw this small-checked skirt in the store not long ago, presented with a pretty white blouse and the look was stunning!
If you have any advice for choosing your tights (including a reference to awesome and invisible nude tights) you can (re)read my article on how I choose my tights !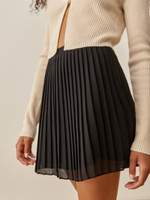 An ecru t-shirt or tank top
The perfect ally to slip under these blazers or shirts and to wear with jeans, pants, shorts, skirts! I'm not objective but for me the perfect t-shirt is the one I created for my eco-responsible ready-to-wear brand Solstice Éditions :  our Rachel t-shirt in ribbed GOTS organic cotton made in Portugal . It is ultra soft and comfortable, with a pretty feminine fit. It can be worn close to the body or a little looser (by oversizing by one or two sizes) and good news: it will arrive in black and latte in a few days, in addition to the ecru color which will also be back in stock! Feel free to sign up for the back in stock alert or follow our Instagram pageso as not to miss his return ?
As for the tank top, this model in organic cotton is a good basic and I really like this very feminine model with its original neckline or even this Balzac model in organic cotton that I got in mustard. This model from the eco-responsible brand Armed Angels does not exist in ecru but its shape is very beautiful and it looks super comfortable!
If you buy cotton t-shirts / tank tops, try to favor organic cotton as much as possible, which is increasingly easy to find!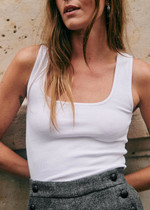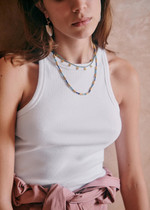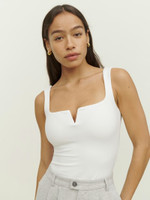 A pretty piece of color
Who says spring, says color! This season I love to introduce little touches of color, either through accessories or through colorful clothes that are still easy to match! I particularly like the colored jackets or cardigans that bring pep to this season, like this pink coat that I wore a lot last year or this pink cardigan! To add color, I really like this pretty pink organic cotton t-shirt , this blue cardigan that gives you a healthy glow or this little multicolored knit top .
Personally, I'm eyeing this pink jumpsuit, which I find wonderful , and I also really like this super-successful pink dress !
If you want to bring color in a more discreet and less engaging way, cracking on pretty hair clips is a simple and inexpensive way to do it!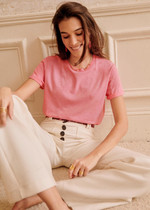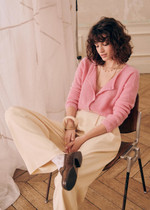 A beautiful plain or checked blazer
For me, the blazer is a piece that goes perfectly with all the pieces listed above! I confess to prefer it in beige color because it is the most versatile color for my wardrobe (but maybe for you it will be more black, gray or navy for example).
I bought this Sézane beige blazer 3 years ago and it's one of the pieces I wear the most . Its cut is really successful and it is very comfortable to wear. I also have a light beige linen blazer from Sézane that I bought second hand ( the one I wear with the matching pants in this look ). In the same style, I spotted this model in beige linen this season!
If you're more of a black blazer, I love this model in recycled wool with its big golden buttons . Super chic!
Obviously, since the blazer is a basic in my wardrobe, it was one of the first pieces I created for my brand Solstice Éditions with this merino wool checkered model made in Portugal ! It's a beautiful timeless piece thought out down to the smallest detail (including a very comfortable eco-responsible lining) and to be kept for life!
My selection for you
Here is a selection of the most beautiful pieces I have spotted for spring!